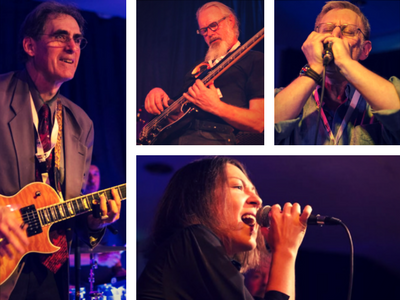 If you've been to any of the last five Global Investigative Journalism Conferences, chances are you saw GIJN's own band, The Muckrakers. Formed at a jam at the first Lillehammer conference in 2008, the group quickly came together with a hard-drinking crowd of journalists from around the world for a great night of R&B, blues, and rock.
Since then, The Muckrakers have played to packed crowds at every Global Investigative Journalism Conference, rockin' the house in Geneva, Kiev, Rio, and then back in Lillehammer for a great reunion in 2015.
Drawn from four countries, The Muckrakers showcases the talents of five veteran musicians – Ana Simonovska on vocals (
Macedonia), Mark Hunter on guitar (France/US), Dave Kaplan on harmonica (US), and Geir Aage Vollan on bass (Norway). They often feature guest musicians from the countries hosting our conferences.
The band plays Friday night, Nov. 17, so bring your dancing shoes and come party at The Orbit, a classic jazz club. The Orbit finds its roots and spirit in a small Jazz Social Club established in the historic Johannesburg suburb of Troyeville in the early 2000's.
The Muckrakers will burn through a hard-driving blend of classic R&B, cool soul, and boogie-woogie blues. This year they'll be featuring tunes from Aretha Franklin, Ray Charles, Martha Reeves, Elmore James, Wilson Picket… and don't forget Dylan and The Stones.
The Muckrakers are:
Ana Simonovska, vocals and rhythm guitar

Powerhouse singer Ana Simonovska's musical skills were honed at the Conservatory and Faculty of Music Arts in her native Skopje, Macedonia. After graduation she played and recorded her own songs with a Macedonian rock band before going solo. After years as a TV journalist in Skopje, she studied music in Vienna, and is now based in Moscow.
Mark Lee Hunter, slide guitar and vocals
Ace guitarist Hunter has toured with Fontilla Timmons, studied with Bob Brozman, learned licks at the feet of John Lee Hooker, performed with musicians like the great Mexican guitarist Gil Gutierrez, and recorded with disco artist Kim Dorell and harmonica virtuoso Richard Hunter. Based in Paris, Hunter teaches journalism at INSEAD, a leading business graduate school.
Dave Kaplan, harmonica
Acclaimed harmonicist Dave Kaplan learned to play blues in his native Chicago. He's spent over 30 years playing in blues, rock, and jazz bands. Known for blazing fast runs, Kaplan has performed worldwide. His work as a journalist, meanwhile, has won more than 20 awards. Based in Wash., D.C., he now works as director of our conference co-host, the Global Investigative Journalism Network.
Freddy Schaal, drums
The band is delighted to welcome back two of its original members, from Norway. Freddy Schaal is an acclaimed drummer who has played professionally for years and gigged across Europe. A master of multiple styles, Freddy drives the band whether it's a fast boogie or a moving blues.
Geir Aage Vollan, bass
Veteran bassman Geir Aage Vollan also played with The Muckrakers at its first gig in 2008. A native of Lillehammer, Norway, the much sought-after bass player has gigged with bands in Norway and overseas for over 30 years.
Need more info? Write us at hello@gijn.org. See you at the gig!